Looking after self, Tips to shine
Looking after self, Tips to shine
This is a contributed post
Looking after self? Yes of course, we are ready to shine!
Often we spend so much of our lives looking out for other people and wondering if they are all okay, and we spend such little time on ourselves. There are so many aspects of our own lives that we need to get right in advance.
It is so important to make sure you are doing enough to take care of yourself these days. Yes, it is good to look out for others, but it's also important to look after yourself as well.
LIVING IN GRATITUDE IS REALLY LOOKING AFTER SELF!
And one of the biggest way to also care for looking after self is living in gratitude. For once we realize that we are so grateful, our world completely changes. We are no longer dogged by the negative or external pressures.
We just live more simply basking in gratitude. And we accept things as they are. Gratitude is the path to truly heart-centric living. 
It is so important that we realize looking after self is not selfish, but rather quite empowering. And when we allow ourselves to live in gratitude, we also find we are being more of service to others and especially ourselves. ITs a really heart centric way of living. And it lights our path in the glow of joy and simple love.
You have to give plenty of attention and focus to the right amount of self-care these days. There are such a lot of things that play a role in looking after yourself, and you need to get other areas of your life right.
This is something that is so crucial for the future and must assess the areas of your life that need some work and look at what you can do to make things better. These are some of the strategies you need to be using to enhance and advance your self-care in day to day life.
Meditation is Truly Looking After Self!
Sometimes life just seems to be such a sense of overstimulation. And we wonder what is going on. So that is the moment we k
You have to look at your mental state because this is what affects everything else. There are too many things that can play a big role in stressing you out and causing issues like depression to bed in.
You have to spend a little bit of time each day making sure you clear your mind of doubt and worry, and that you focus on strengthening and improving your mind.
Meditation is a wonderful way of achieving this and will help you feel much better and more confident in who you are. Meditation is such an important technique when it comes to relaxing, unwinding, and freeing your mind of problems, so this is definitely something to consider.
Did you know that there are many ways to meditate? From easy breathing techniques to candle gazing to transcendental meditation and yoga. Which ones have you tried? Here is one that is really effective and very centering and heart opening, meditation in motion.
---
---
---
I AM ON A

MISSION

… TO GET PEOPLE OUT OF PAIN AND INTO THRIVING.. 

WILL  YOU JOIN ME? 
IT'S MOTHER NATURES'S GIFT TO US, CBD OIL!
100% LEGAL HEMP. NO THC. NO PESTICIDES. NON GMO 
CBD OIL WORKS WITH OUR NATURAL ENDOCANNIBINOID BODY SYSTEM TO CREATE BALANCE AND EASE.
CLICK HERE TO GRAB YOURSELF A GIFT OF THIS GOLDEN ELIXIR 
IT'S ALSO AN AMAZING BUSINESS OPPORTUNITY THAT IS FREE TO START, YUP FREE!  CLICK HERE TO GET ALL THE INFORMATION 
---
---
---

Looking after self? Stop Sweating the Small Stuff
As we travel through this journey we are often bombarded by the external factors that truly have nothing to do with us. Yet somehow we let them in. It is in knowing what we truly are needing for our higher self that leads us to a place of calm and holding our own peace.
For those who worry, it is very easy to worry and freak out about every single little thing. There are so many issues these days that can leave you freaking out and panicking about stuff, and this is not healthy for you. 
You have to get into that mindset of not sweating the small stuff. Stop worrying about every conceivable little detail, and do as much as possible to be a more positive and upbeat person. This is going to make such a massive difference to your life moving forward.
Letting go of all that does not suit us, is the best way to really live our best life. When we find that balance, the flow becomes our path. We are no longer impeded by the external.
Talk to Someone About How You're Feeling
The worst thing you can do these days is to bottle up the way you are feeling and spend too much time in your own head. If you have worries and fears, you need to confront them and do as much as possible to talk about it.
This means speaking to a friend or family member about your feelings, or even meeting with a professional if you feel that is necessary. Talking about your problems plays a big role in helping you deal with them, and this is so important for the future, and for your well-being.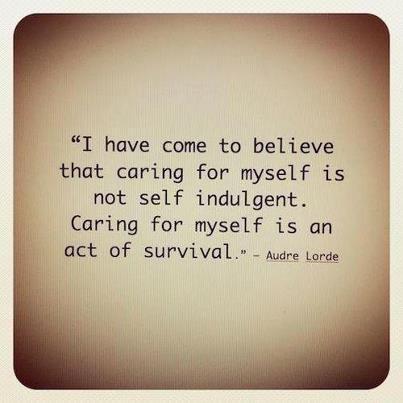 Make Sure You Stay Active
It is so important in this day and age to make sure you stay active as much as possible. The best thing to do if you are serious about improving your life and enriching your health is to make sure you are exercising on a regular basis.
There are so many things that have to happen in order for you to improve and boost your health, and staying active is one of the most important. This is the best way of enriching body and mind and making things better for you on a daily basis.

Eat Right
Your diet is so important when it comes to properly looking after yourself, and this is something you have to make sure you focus on. There are a lot of things you need to get right, and a balanced, healthy diet is one of the most important.
Putting the right food into your body is crucial because this gives you energy and helps you improve the functionality of your brain and body. There are so many great diets and foods you can consume these days, and it is important to get this right as best you can.
I know for sure that when I am eating whole unprocessed food, my body is happy. For we are what we eat!
Keep Hydrated
Staying hydrated and making sure you consume plenty of water is one the most important things to think about. There are so many things that can adversely affect your health, but dehydration can be a bad one.
When the weather is hot, in particular, it is important to make sure you are hydrated. You also need to make sure you consume 2-3 liters of water per day on a daily basis. Staying hydrated is an excellent way of ensuring you boost your well-being and self-care as much as possible.
Always Take Your Medication
If you are taking medication of some kind, it is important to make sure you keep this up. You always have to ensure you remember to take your medication all the time, and that you always have medication to hand if you need to take it.
This means you need to find alternative sources of getting medication in case there are issues at the pharmacy. Well, there are plenty of sites out there these days that allow you to buy drugs online.
Of course, they are accredited and trustworthy, and you should only ever use sites that are trustworthy and that you have thoroughly researched. This is important to make sure you get right as soon as you can.
These are just a few of the excellent techniques and ideas you can use that are going to help you improve your self-care. Looking after yourself as much as you possibly can is the best way of working toward improving your health and well-being. There are so many wonderful things you need to keep in mind, and it is so essential that you take care of yourself. If you want to lead a happy and fulfilled life, the best thing to do is to make sure you spend time focusing on bettering yourself every day.
Investing in ourselves is the best gift we can ever give.
SUMMARY 
Looking after self is a huge undertaking isn't it? For we sometimes lose track of what our goal truly is. And that is to live our largest most fulfilling life. To find that center of us that is our core and truth. And then live it. Without carrying externalized societal thought with us.
So do take care of you. Meditate, talk to people who lift you up. Find ways to fill up your own heart. And be the best friend to yourself that you can be.
Living in gratitude, and being of service, changes our lives and paths.
Do realize there is no one more important than you. So looking after self is critical to a life well lived. Feed your soul and your body well. For when you do, you change the world with your light!
Oh and don't forget that using CBD oil is the best way to help keep your body and thoughts in balance. 
After all, we don't just want to be here.. we want to thrive and totally live each moment, yes?
Oh yes we can!
How do you feed your soul and body that makes you shine?
Light the path
In peace and gratitude
Founder, CEO Success-full-living.com
living one heart-centric moment at a time